Akademie von Anonymous Anoynmous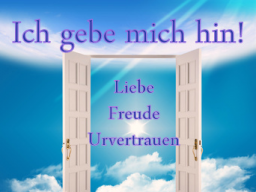 ICH GEBE MICH HIN! Urvertrauen - Vertrauen an Gott, Vertrauen an sich Selbst ...
In Body & Soul > Health Promotion
Language:

German

Video price:

7.00 €

Video duration:

1 hour and 24 minutes
A recording of this webinar is available.
Sich völlig hinzugeben.
Den Zweifel loszulassen.
Vertrauen an der Schöpferkraft
Vertrauen an sich Selbst.
Was ist der Unterschied?

Was ist Urvertrauen?
Wie gelangt Man dorthin?
Sich völlig hinzugeben und an den Schöpferkraft vollkommen zu vertrauen, durchs Feuer, Wasser und Sturm zu gehen und diese überwinden, annehmen was es auch kommen mag, erweist sich oft viel schwieriger als wir denken.

Im Kopf geht es los und die Gedankenflut kommt ... aber ... wirklich ... wie.... Aber...
doch... wieso... warum... warum so? warum Jetzt? warum ich? wieso jetzt?

Wie ist es nun möglich durch den Zweifel zu gehen und die Gedankenflut umzugehen?

Wenn wir es schaffen unsren Urvertrauen anzuklinken, ist fast alles möglich.

Urvertrauen und volle Hingabe - wofür sind Sie notwendig?
Was geht ohne Sie nur Zeitbegrenzt?
Was ist der Grund dafür?

An diesen Webinar lüfte ich einge überasschende Geheimnisse.

Ich freue mich auf Sie und auf euch Alle!