Akademie für Geistheilung und Energiearbeit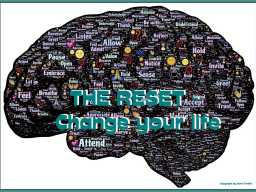 Kennst du das? Du bist in ein Problem verstrickt und es fühlt sich an, als säßest du in einer Endlosschleife fest.

The Reset ist eine Technik, die dir unter anderem helfen kann, aus alten Mustern auszusteigen, um neue Wege gehen zu können.

Diese Technik habe ich für dich entwickelt und sie so leicht gemacht, dass du sie jederzeit selber anwenden kannst. Eigentlich ist es ein 2 in 1 System. Ich lehre dich zwei Methoden, die du für alle deine Probleme anwenden kannst.

Wenn du nicht an der Informationsveranstaltung dabei warst, schau dir einfach den ersten Teil der Aufzeichnung an, in der dieses System genauestens erklärt wird. Diese Aufzeichnung findest du hier:

https://www.sofengo.de/w/143608

In diesem Webinar werde ich dir The Reset nahe bringen und mit dir eine Trancereise machen, die du am Ende immer für die Arbeit mit The Reset nutzen kannst. Du bekommst außerdem eine sehr ausführliche Anleitung als pdf dazu.

Am Ende und mit ein wenig Übung kannst du das System auch mit jedem anderen Menschen anwenden, um ihm zu helfen.

Probleme lösen muss nicht schwer sein, du brauchst nur die richtige Methode(n). Und die habe ich für dich entwickelt.