Akademie von Antonia Langsdorf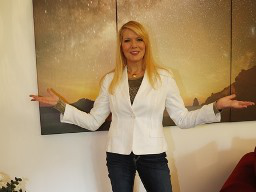 Astrologischer Salon - nur für Teilnehmer und Schüler!
In Trainings & Workshops > Astrology
Language:

German

Video price:

360.00 €

Video duration:

11 hours and 36 minutes
A recording of this webinar is available.
Thema: "Facetten der Persönlichkeit - die Planeten im Horoskop".
Seid live dabei, wenn wir in meinem Kölner Salon arbeiten und üben! Wir werden uns mit den Planeten im Horoskop beschäftigen, die Grundbedeutung erlernen um am Beispiel der Teilnehmerhoroskope erfahrbar machen. Kostenlosen Zugang erhalten nur die TeilnehmerInnen meiner Ausbildungsgruppe, die Anmeldung muss von mir bestätigt werden. Wenn Ihr noch nicht bei mir studiert, habt Ihr die Möglichkeit, das Video der Salonreihe hier bei Sofengo zum Preis von 360,00 Euro zu erwerben. Für nähere Informationen dazu erreicht Ihr mich auf meinem Kundentelefon unter der Telefonnummer 0221-96972671.