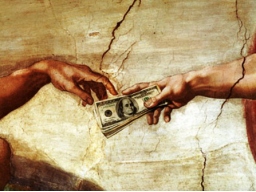 4 tlg. - Jesus über Geld. Die Heilung einer fundamentalen Mangelidee.
In Trainings & Workshops > Transformation
Video price:

14.00 € incl. VAT

Video duration:

2 hours and 39 minutes

Language:

German
A recording of this webinar is available.
Geld ist nicht gut oder böse, keine Energie und kein Austausch. Geld ist nichts. Aber solange du hier, egal, wie fortgeschritten, hast du weltliche Bedürfnisse und alles, was in dieser Welt ist, muss vom Heiligen Geist für Heilung genutzt werden - für dein Erkennen deiner Vollständigkeit.

Diese 4-teilige Webinarserie (à 30 Minuten) widmet sich der Aufhebung der Glaubenssätze, dass deine Sicherheit oder dein Wert an Scheine, Münzen oder Zahlen geknüpft ist.

Du bist herzlich willkommen auf dieser Reise aus der Enge der Finanzen in die Freiheit deines gegenwärtigen Überflusses.

* Ein Kurs in Wundern ist im Greuthof Verlag erschienen.